Your vet clinic is more than a clinic. It's also a veterinary business, and it's important to make sure you're running efficiently to keep your clients happy. When your clients are happy, they'll be more likely to come back to your practice and introduce other potential clients to your veterinary clinic. But just how exactly can you improve the efficiency of your veterinary business? Check out some of our key tips to help you boost the efficiency in your own practice.
Invest in Cloud Hosting Services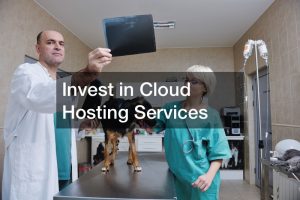 Outsource services where possible. Any business not operating in the cloud is behind the times. Most companies today (87%) are running in the cloud. There is a good reason for that. Cloud hosting services help companies save money.
Cloud hosting services provide relief for a company's IT department. One of the main ways cloud hosting services help companies is by alleviating the burden placed on their IT resources that maintain server hosting. Since cloud services are off-site, IT departments no longer need to worry about troubleshooting issues or maintenance work. Companies can then scale down the staffing hours of the IT Department or have them work on more profitable projects.
Cloud services also save companies money indirectly. With a faster, more streamlined infrastructure, companies become more efficient. According to a study reported by Forbes, more than half (55%) of companies saw an increase in efficiency after they started using the cloud. So while these companies are still spending the same amount of money on labor, the labor value increases. Companies get more done with the same amount of time.
Telephone Services Provided by the Cloud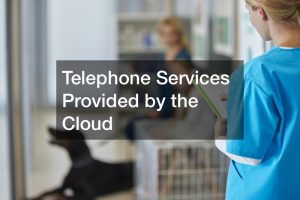 Telephone services provided by a cloud-based service are another way a business can be more efficient and save money. Voice hosting services reside off-site and are managed by a third-party using the Voice over Internet Protocol via the Internet.
With faster, more streamlined infrastructure, companies get more done. According to a study, 55% of companies saw an increase in efficiency after they began using the cloud.
Utilizing cloud services also helps companies save money by conserving energy. If a company has its own IT Department, service needs to be done on-site. These powerful machines consume vast amounts of energy and need to be cooled, requiring more power. Plus, these machines need to run 24/7. By using cloud servers off-site, the energy bills for the companies come down.
Make Team Members Easy for Clients to Spot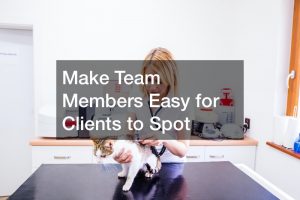 One way of making team members easy to spot is with custom team shirts. With the help of this shirt, employees do not need to spend extra money on office clothes. The team shirt will also help to advertise your clinic's name.
Some of the other reasons for having team shirts are:
The shirt will play an essential role in the organization by acting as an identification mark for pet parents to spot clinic employees.
It provides a professional image.
It gives customers a sense of trust and confidence.
It provides security and safety.
It works as an effective marketing tool.
The veterinary team shirt will help employees look cohesive and disciplined. From a clinic standpoint, some of the reasons for the team shirt are:
Secures employee protection
Promotes team building
Provides employee benefits
Provides free advertising of business
Creates awareness of the clinic
One of the facts about the team shirt or uniforms is that everyone would wear the same shirt throughout the clinic. Thus, the employees throughout the clinic would be seen as the same regardless of their position in the clinic.
A team shirt can serve as a form of identity for the clinic. It would make it easy for employees to take care of their work clothes, which is vital when working with animals. If unsure of how to proceed with the idea of a team shirt, poll the employees to get their opinions.
Perhaps have all the employees get the same shirt design but in the color of their choice. This way, the employee can choose a color that is flattering to them while at the same time, be cohesive by wearing the same shirt style.
Keep the Clinic at a Comfortable Temperature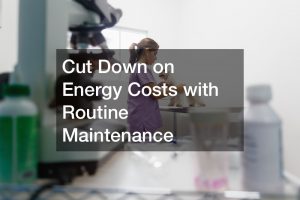 Meeting the needs of a hospital is difficult, but when the patients are four-legged in most cases, shed fur or hair, come in various species, and emit all kinds of odors, difficult becomes almost impossible. It is challenging for the HVAC services of veterinary hospitals. Americans spent $72 billion on their pets last year. But money is tight in the facilities.
More demands are put on veterinary hospitals than human hospitals, and they do not have the budget to handle it. Typical project costs at a veterinary clinic are almost $300 per foot, and they are limited in how much they can charge for their services. Although there is pet insurance, it remains primarily a cash business.
MRI machines cost the same for both humans and animals, but the amount charged for their use will be much lower for animals. Another consideration is that the device produces as much heat as its human-scanning counterpart, so the clinic's HVAC system needs to handle the large load at the lowest cost possible.
Often these pet hospitals require even more intense cleaning than a traditional hospital, which means high-intensity lighting is used for deep cleaning.
Humidity is another challenge for the HVAC system in a veterinary clinic. An HVAC system in a pet clinic needs to be designed to mitigate mold and provide comfort, challenging in high-humidity areas like Florida or Texas.
Each area of a veterinary hospital needs to be odor-free. This is most crucial in the front reception area. Not only do odors need to be controlled, but airborne pathogens need to be controlled. Kennel cough is common, and certain animals are very susceptible to this and other illnesses.
Some airborne illnesses, such as parvovirus, are hazardous for pets. Isolation rooms with 100% ventilation with UV filtering are required to treat this type of disease. A sneeze or cough from one dog could turn a business upside down. That is why sanitizing the air continually is so critical.
To ensure that the ventilation, heating, and air conditioning in your clinic operates at optimum efficiency, contact local heating contractors to inspect your system for your pet patients' safety and the peace of mind of pet parents.
Cut Down on Energy Costs with Routine Maintenance
Roof inspections should be done twice a year to keep energy costs down and protect the clinic from structural issues and water damage. If your building requires many roof repairs, consider a TPO roofing product. It is a flexible product that is easy for roofing companies to install around roof penetrations such as chimneys, skylights, and vents. This type of roof is lightweight, flexible, weather and heat resistant, and environmentally friendly.
Bring in a roofing service to inspect your roof to ensure there are no missing shingles, holes, worn areas, etc. Many things can happen to a commercial roof during the year. Frozen gutter drains, roof leaks, and excessive buildup of snow can cause your roof to collapse, which would be catastrophic for the animals and the clinic employees.
Temperature changes can then cause the water to freeze within the tiny cracks, causing the roof to expand and contract. With seasonal weather, the changes such as ice melting, then freezing again further widens the cracks causing more damage.
Roofing Inspection
It is recommended that a detailed roof inspection be done to ensure your clinic's roof is in good condition. A roofer will examine the following things.
Decking – any rot or staining
Surface membranes
Roof vents
Flashing
Field tears
Gutters
Drainage pipes
A routine commercial roof inspection will uncover minor problems before they can become major problems. Many potential problems can be detected, but if you contact a commercial roofing specialist, they can handle these repairs before the repairs become more costly.
Clean the Rooftop
The inspector will check for debris that needs to be removed from the roof of your clinic. Debris such as branches, leaves, and other trash must be removed to make drainage possible from the rooftop.
Check for Standing Water
The roofing inspector will check for evidence of ponding by looking for areas that are blocked or looking for slow-draining lines. If there has been settling water on the roof for any length of time, there may be color stains or changes on the rooftop around the drains. A professional evaluation will need to be done to determine if any underlying damage has occurred due to standing water on the roof.
Check Flashing
The roofing inspector will also examine the flashing to find cracks or crevices to ensure they are repaired before the season's change. There are typically more cracks and other failures around transition areas. This is particularly true where the flashing goes from flat to vertical because there is more stress on these areas. If flashing issues are found, they should be repaired before cold weather sets in.
Check Field for Tears or Cracks
A commercial inspection of the roof field will need to be done. If any debris is found, signs of tears or cuts in the roofing system will need to be fixed before structural damages appear. If the inspector feels there is an existing leak in the field but cannot find it, a "flood test" can be done to ascertain the damage.
Inspect Terminations in the Parapet Walls
The terminations in the parapet walls need to be adequately sealed. Your roofing professional will look at the base of the wall to make sure there are no signs of cracking or failure. These issues need to be addressed to prevent more extensive damages in the future.
Check the Edge Detailing
All the edge materials need to be secured tightly and terminated. If they are not, a professional needs to properly secure anything loose to close gaps that could allow the elements inside.
Inspect Roof Surface
The roofer will inspect the roof surface to ensure that nothing has lifted or shifted during a storm. Wind damage can cause lots of damage to a roof.
The Gutters and Drains
Drains and gutters can play a role in standing water and need to be checked. If your gutters are clogged, the water will pool on your roof. Do not allow standing water to remain on your roof. On asphalt-based roofs, standing water can quickly lead to roof failure, especially during the winter. To prevent this, remove any debris that has built up in the gutters.
Downspouts
The last step in the inspection will be to check the downspouts and the downspout terminations on the ground. These sections can become damaged or crushed from passing vehicles or lawn maintenance equipment. If they are damaged, they need to be replaced to avoid further issues developing.
Make Sure Your Roof is Prepared for Every Season
With the right roofing techniques and proper maintenance, expensive damages to your roof can be avoided as time goes on. If you schedule routine inspections on your roof, your building will be prepared for the freezing temperatures in the winter or the summer heat.
Many companies will provide a roofing inspection free of charge. But you will know you have roofing issues if there are leaks, excessive mildew or mold, or pooling water. If there was a recent hail storm or if it has been over six months since your last inspection, it is recommended that you get another inspection as quickly as possible by a professional roofing company.
Most will provide inspections on flat roofs, metal roofs, sloped roofs, membrane roofs, etc. Running a veterinary clinic cannot be easy. There are anxious pet parents to calm down, pacifying scared patients, and keeping your staff safe are your top priorities. But if the roof on your clinic building is in good repair, everyone and every pet will be safe and secure, something you will need if you offer boarding at your clinic. All your employees, pet parents, and cuddly patients will be glad you care enough to provide this safety and peace of mind.